About Don Quixote
A Romantic Comedy Done Ballet Style
Tomasson/Possokhov's Don Quixote is part of SF Ballet's 2022 Season. It was performed in Program 3 from February 26–March 6, 2022.
For anyone who has read Miguel de Cervantes' classic novel Don Quixote or seen the musical Man of La Mancha, the name "Don Quixote" conjures an addled, would-be knight and his roly-poly counterpart, Sancho Panza, who pursue adventure in the name of chivalry. But in the ballet world's Don Quixote, it's a love story that takes center stage—starring Kitri, an innkeeper's daughter, and Basilio, the town barber—with the "knight of the woeful countenance" and his reluctant squire playing supporting roles.
Don Quixote is filled with physical humor and fiery dancing, topped off with a wedding—a virtuosic celebration often performed as a stand-alone ballet titled "Kitri's Wedding." But the full ballet offers much more than a fabulous finish. It's a romantic comedy done ballet style—dressed up in tutus, tiered dresses, and bolero jackets and peopled with passionate young lovers, rowdy townspeople, dashing toreadors, the foolish Gamache, a band of Gypsies, and even Cupid and her Driads (in a romantic dream sequence in which Don Quixote sees Kitri as his idealized true love, Dulcinea). There's even a horse or two. To Artistic Director and Principal Choreographer Helgi Tomasson, one of Don Quixote's most appealing aspects is "the joy it gives you—you could say it's a little bit of a farce. It's nothing dramatic or psychological. It's upbeat; it's fun."
Cervantes' Don Quixote had been captivating readers for well over a century when the first ballet version was presented. That was in Vienna in 1740, choreographed by Franz Hilverding. Version after version followed: Jean-George Noverre's in 1768, Charles-Louis Didelot's in 1828, Paul Taglioni's in 1850. Of the 20th-century versions, George Balanchine's is probably the best known, partially for the perceived parallel between Don Quixote's love for his Dulcinea and the choreographer's for his muse, Suzanne Farrell. But the most influential version is the one by the great French choreographer Marius Petipa. He staged Don Quixote in Moscow in 1869, making changes and adding more music for a St. Petersburg production in 1871. Alexander Gorsky restaged Petipa's version in Moscow in 1900 and again in St. Petersburg two years later, and it is this Petipa/Gorsky version that has endured.
Don Quixote first took the stage at San Francisco Ballet in 2003, choreographed by Tomasson and Yuri Possokhov, then a principal dancer and now choreographer in residence. Possokhov grew up with Don Quixote as a student at the Bolshoi, dancing various roles, and though he and Tomasson based their Don Quixote on the Petipa/Gorsky version, they included much of what Possokhov remembered. To help tell the story, they made some choreographic changes; for example, giving the lovers, Kitri and Basilio, an intimate pas de deux. And rather than ending with the grand pas de deux and Don Quixote's exit as some versions do, Tomasson added music (also by Ludwig Minkus, who wrote the ballet's score) that extends the wedding festivities.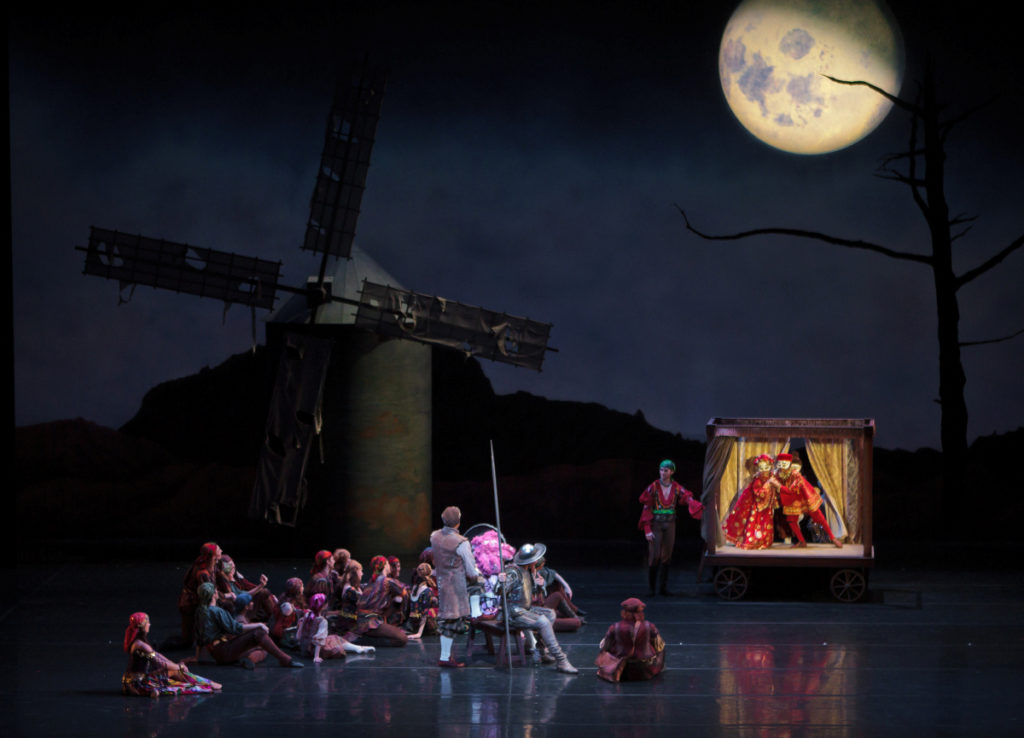 Tomasson looks at Petipa's libretto as a ballet version of commedia dell'arte, a type of dramatic improvisation popular throughout Europe during the 16th and 17th centuries. It relied on stock character types to enact variations on recurring themes, such as a father who tries to marry off his daughter to a moneyed, older gent. She's in love with someone else, of course. Translating that plot to Don Quixote, we find Kitri, who's in love with Basilio, rejecting the older and ridiculous Gamache, her father's choice for her. And Sancho Panza, Don Quixote's squire, is essentially a Zanni—a stock servant character. Commedia dell'arte always involved healthy doses of deception, chase scenes, and physical humor, and Tomasson says he finds "a lot of similarities. The chasing, Harlequin taking Columbine away—it's the same thing here. They just happen to be in Don Quixote's story."
Although the choreography remains unchanged in the new production, the ballet was updated with a completely new look: 19th-century Spain was brought to life with scenery and costumes by Martin Pakledinaz, a Tony Award–winning designer whose credits include Tomasson's Nutcracker. Pakledinaz, who died in 2012, said that the most important resources for Don Quixote were "the visuals of Spain, both the cities and the countryside, not only of La Mancha but Andalusia. [The story] technically takes place in the larger cities of Sevilla, Barcelona, but we decided to create our own village." He was always influenced by fine artists, he said; for Don Quixote, he turned to some 17th-century sources (including Francisco de Zurbaran and Jusepe de Ribera).
In planning to stage Don Quixote again in 2012, Tomasson decided it was time to give the Company its own production. (Previously the sets and costumes were rented from Royal Danish Ballet.) His priority in terms of production design was to allow things to flow, especially in the second act's transitions from scene to scene. "The second act is in three sections," says Tomasson, "and I like it to keep going as much as possible, at the same pace and rhythm" as the rest of the ballet, without bringing in the curtain and playing transitional music. The result is a smooth transition between scenes.
Working with Tomasson was "very intense in a friendly way," Pakledinaz said. Together they brainstormed how best to tell the story, clarifying characters and relationships through entrances and exits, costuming, and even the palette. Tomasson wanted to stick to the traditional, and Pakledinaz responded with what he described as "a dusty study where we discover Don Quixote; a bright, Spanish, earth-toned plaza; and a plain, barren terrain with a spooky tree and a windmill." In his creative process, the sets came before the costumes. "You have to find out what your world is before you know who the people are that inhabit it." Along with doing research, Pakledinaz said he "constantly referenced the previous production, sometimes purely for the choreography and sometimes to see if I felt that the scenic changes or the costume changes needed to be the same or could be readdressed." In redeveloping a classic, he said, it's important to "drop what you've seen and try to make it your original production."
by Cheryl A. Ossola
Header Image:  San Francisco Ballet in Tomasson/Possokhov's Don Quixote // © Erik Tomasson