About Balanchine's Serenade
Balanchine's First Ballet Created in the US
Of all George Balanchine's works, Serenade provides as close to a spiritual experience as can be found in ballet. Created on students at the School of American Ballet during a class on stage technique, it is one of the most beloved works by this choreographic master. From the moment the curtain rises—on an iconic image of 17 women standing still and serene—to the last glimpse of their pointe shoes as the curtain falls, Serenade takes gentle hold of our emotions.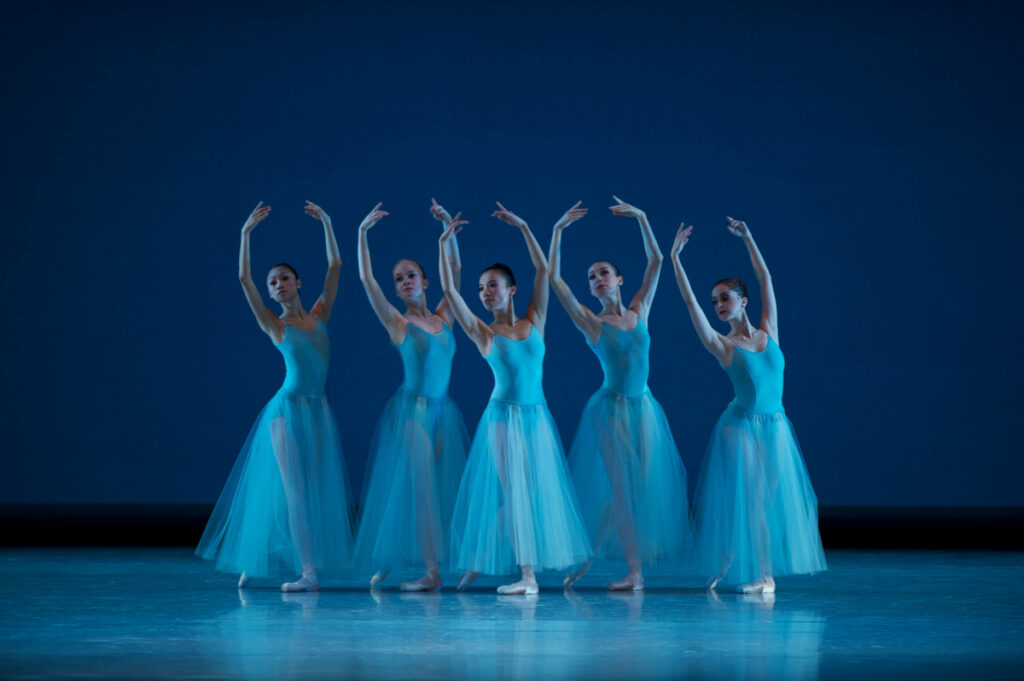 Balanchine, the co-founder and artistic director of New York City Ballet and the School of American Ballet, was one of the most prolific choreographers in dance history. He created more than 200 ballets, but perhaps more notable are the astounding stylistic range and enduring nature of his works. Serenade, set to Peter Ilyich Tchaikovsky's Serenade for Strings, was the first ballet that Balanchine created in the United States, and 84 years later it still has unwavering power. As San Francisco Ballet Artistic Director and Principal Choreographer Helgi Tomasson puts it, this ballet is "timeless, so exquisite."
Serenade premiered in White Plains, New York, in 1934, danced by students; its professional premiere came the following year, danced by the American Ballet (a predecessor to New York City Ballet). Serenade entered SF Ballet's repertory in 1952 and has reappeared throughout the Company's history, most recently in 2018.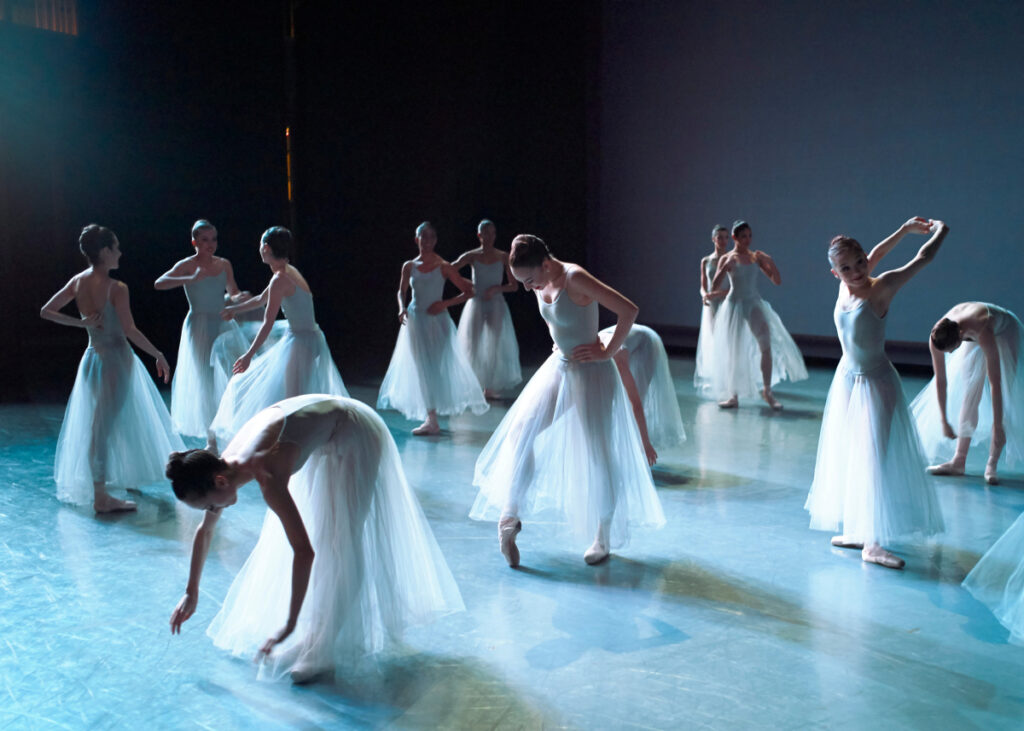 As Balanchine relates in his book Complete Stories of the Great Ballets, he created Serenade to demonstrate to his students that performing is far more complex than taking class. The day he began, there were 17 students; the next day, nine; the third six. In each class he worked with whoever was there, adding men when a few showed up to class, and including mishaps, like a late entrance and a fall. Serenade is a prime example of Balanchine's often quoted philosophy (embraced by Tomasson): "Use what you've got." He always did, in ways that display his tremendous creative depth.
Along with its steps, movement quality, and emotional expressiveness, Serenade shows off Balanchine's ability to elevate to an art the simple act of creating patterns; in fact, the beauty of its formations makes it fun to watch from above. "It's like an ebb and flow—there's confusion and then instantly there's order," said the late Elyse Borne, who staged the work on SF Ballet in 2018. Making those patterns work seamlessly requires a heightened sense of bonding, especially among the corps women.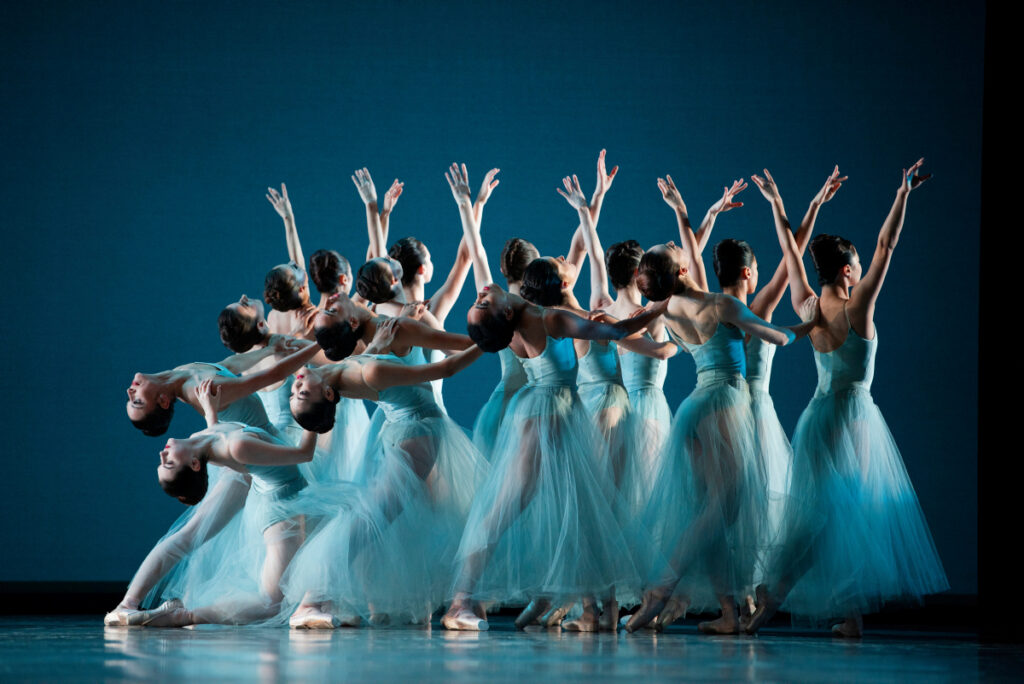 Despite being created on students, Serenade is far from easy to dance. "It's allowed to be done by schools because he made it for the [School of American Ballet]," said Borne. "And yet the dancing is so hard. I think it was a lot for him to demand from students—it's not only hard technically but artistically. Although there's no story, there's a lot of romance, a lot of drama and passion. If the dancers just do the steps, it doesn't look like Serenade." Over time, Balanchine continued to develop the ballet, eventually using Tchaikovsky's full score and fitting it to the skills of the professionals who danced it.
One of the ballet's most touching moments occurs when the 17 women, standing with feet together in parallel (sixth position), open them to a wide V: first position. This simple movement, so elemental, reflects Serenade's origins as a piece for students. And, in part, those quiet, understated moments of beauty make Serenade timeless. "No one ever gets tired of it—not dancing it, not seeing it, not staging it," said Borne. "The curtain goes up and you hear that beautiful music and see the light, and it's transcendent."
by Cheryl A. Ossola
Header Image: San Francisco Ballet in Balanchine's Serenade // Choreography by George Balanchine © The Balanchine Trust; Photo © Erik Tomasson