About Christopher Wheeldon's Cinderella
There's no fairy godmother, but you won't miss her a bit.
Christopher Wheeldon's Cinderella is part of SF Ballet's 2023 Repertory Season. It will be performed in Program 6, from Mar 31–Apr 8, 2023.
The heart of the old, the spirit of the new. Christopher Wheeldon's Cinderella* tells the same uplifting story people have heard for centuries, but this is a ballet full of innovations and modern twists. A co-production of San Francisco Ballet and Dutch National Ballet, Cinderella premiered in Amsterdam in 2012, then flew across the Atlantic to make its US premiere in San Francisco in 2013.
"Each of Christopher's works has something unique," says Helgi Tomasson, SF Ballet's artistic director and principal choreographer. Wheeldon is an acclaimed dancemaker, in demand at companies worldwide. Formerly a resident choreographer at New York City Ballet and now an artistic associate at The Royal Ballet, he caused a sensation on Broadway with the musical An American in Paris, for which he won the Tony Award for choreography. And he's a frequent presence at SF Ballet, with 14 works in the repertory. Cinderella was his eighth commission and first full-length story ballet for the Company.
Tomasson's words about originality ring true in Wheeldon's Cinderella. You'll find no fairy godmother, no pumpkin coach, no clock striking midnight—but you won't miss them a bit when a tree comes alive and "dances," or when Cinderella shows backbone and her Prince's charm runs deep. And you won't miss them when the dancing and the storytelling come from Christopher Wheeldon. "What I wanted to do," the choreographer says, "was echo the darkness in the music by taking some of the themes from the Brothers Grimm version rather than the [Charles] Perrault version," with its fairy godmother and pumpkin coach. "The Grimm version is more serious and a bit darker, centered around nature and the spirit of mother." That's where he got the idea of a tree that grows from the grave of Cinderella's mother, "the deliverer of all things magic, which I think is more poetic [than a fairy godmother] and quite beautiful," he says. "There are comic moments because there's comedy written into the music, but it's a more serious Cinderella in a way."

That music, written by Russian composer Sergei Prokofiev in 1940 but shelved for several years during World War II, made its first appearance when Bolshoi Ballet premiered Cinderella in November 1945, choreographed by Rostislav Zakharov. "I love it," says Music Director and Principal Conductor Martin West about the score. "It's immediately striking, and astonishingly clever the way the themes come around, the way he could create an atmosphere out of something very simple." Prokofiev's Romeo and Juliet, West says, "came from the heart, but Cinderella is more cerebral. It takes longer to get into, but once you've lived with it, it starts to eat at you. Some of it is so beautiful."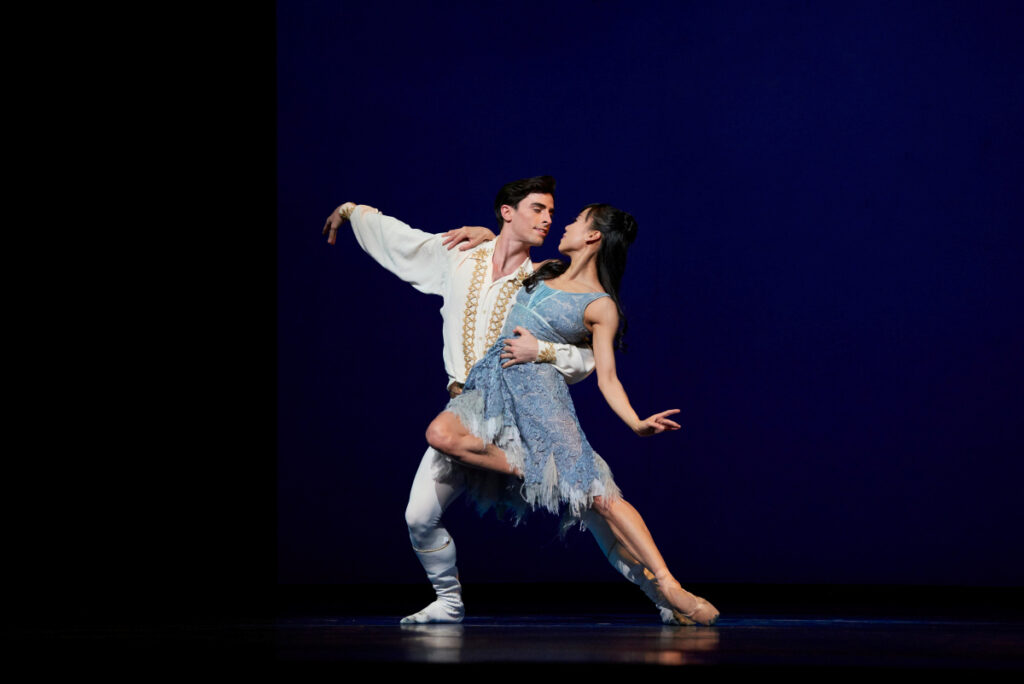 As a ballet, Cinderella has a lengthy pedigree. It debuted in St. Petersburg in 1893, choreographed by Marius Petipa with Enrico Cecchetti and Lev Ivanov, famous "fathers" of classical ballet. (This was when ballerina Pierina Legnani first whipped out an unheard-of 32 consecutive fouettés—pirouettes in which one leg repeatedly extends and whips in, foot to knee—a feat that is now a standard of virtuosity.) The West had to wait until 1938 to see a Cinderella, and when the chance came it was Michel Fokine's one-act version in London, which added the role of Cinderella's cat. In 1948, Sir Frederick Ashton made a Cinderella for Sadler's Wells Ballet in London, and it was the first English full-length ballet done in the tradition of the 19th-century classics. He based it on the Perrault fairy tale and used the Prokofiev score. Ashton revived an old tradition by casting men—including himself—as the Ugly Sisters. Margot Fonteyn, his choice for Cinderella, was injured during rehearsals, and so it was Moira Shearer of The Red Shoes fame who created the title role.
Ashton's Cinderella was followed by an onslaught of productions. Among them, Mikhail Baryshnikov and Peter Anastos made Cinderella for American Ballet Theatre in 1984; like Fokine's, it included Cinderella's Cat. Baryshnikov had never danced this ballet in Russia; it was the music that enticed him to create his own. Rudolf Nureyev, in his 1986 production for Paris Opera Ballet, set the ballet in Hollywood and gave the beleaguered Cinderella an alcoholic father. And in SF Ballet Choreographer in Residence Yuri Possokhov's 2006 production for Bolshoi Ballet, the Storyteller (Prokofiev himself) replaces the Fairy Godmother.
Christopher Wheeldon's Cinderella isn't the first to find a home at SF Ballet—that honor goes to a production by Lew Christensen and Michael Smuin, then co-artistic directors, in 1973. Wheeldon's version, with all the technological advantages of the 21st century, began percolating when he and Tomasson discussed ideas for a new full-length ballet to be co-produced with Dutch National Ballet. As Wheeldon soon found, creating a production on two continents simultaneously isn't easy. "It was my crazy idea," he says. "I said, 'I'll do some of it here and some of it there, and we'll make it work.'" Several Dutch National Ballet principal dancers rehearsed in San Francisco for a few weeks in 2012, and several from SF Ballet went to Amsterdam; that way the choreography could be created on both companies at once. "It promotes a nice cultural exchange," says Wheeldon, "but it has its pluses and minuses. One dancer hasn't necessarily followed it through from beginning to end. On the other hand, more people have had the benefit of being created on."
Listen to an interview of Cinderella choreographer Christopher Wheeldon at the time of Cinderella's premiere in San Francisco in 2013.
In creating a world for his characters to inhabit, Wheeldon assembled an artistic team with imaginations as big as his own. Step one was brainstorming with playwright and librettist Craig Lucas, who describes the early stages of Cinderella as "a constant back and forth, teasing out a shared understanding of what is exciting about the story. [We wanted] to burrow into possibilities we had never seen explored." These included a substitute for the Fairy Godmother—an essential element, according to Wheeldon. "We all toy with the idea that loved ones are always watching over us in some way," he says. He and Lucas settled on the tree that grows when Cinderella cries over her mother's grave—in effect, a character, "a living thing that could embrace the action," says Lucas—and four Fates who offer guidance and protection.
Wheeldon also knew he wanted his Cinderella to be in charge of her destiny. Yes, she's a servant in her own home, but "she knows she doesn't have to be there forever," he says. "It is good versus evil; it is that if you're a good person things can come out right. But it's not saying if you're meek or subservient you'll be rewarded." Cinderella gains some of her strength from the four Spirits (seasonal fairies in Prokofiev's score), who, while teaching her to dance, imbue her with such gifts as elegance and lightness of being. The steps she learns form the basis of her solo at the Prince's ball.
Cinderella's Prince, too, is more complex than in traditional versions—more than "just a handsome mug," Wheeldon says. He and Lucas gave the Prince a childhood—and a servant who happens to be his best friend. In a classic mistaken-identity plot device, the Prince masquerades as the servant, so "the Prince sees who Cinderella really is," says Lucas. "She isn't reacting to someone's status; she is treating him [respectfully] as she would the lowliest person, something he isn't used to experiencing. He has no idea that Cinderella is also hiding her identity."
But what's a story without a setting? Wheeldon chose Julian Crouch to do the sets and costumes because of his "very fantastical approach to design. He always seems to embrace the darker side of the fairy tales he's done," he says. Crouch had designed for theater, opera, and musicals, but ballet was a new world for him. And he discovered that "it needs to be fluid. I think this Cinderella˝ is more fluid than the traditional," he says. "It moves scene to scene more rapidly; it has more locations. So for me it's been an exercise in suggestion, really—I've had to suggest a location and support the atmosphere and then move fluidly to the next one." As for the costumes, he says there's "a looseness about them. Fairy tales are 'once upon a time,' not 'once upon 1870.'" The period is the 1800s "but spread over the century," he says. "Each character is allowed to drift a bit in time. I'd say it's timeless; in that sense it has a fluidity as well."
Crouch describes his design method as "like a purifying process." Set designs come before those for costumes, and he starts by collecting images that spark his imagination. "You collect these things and they become the beginning of a conversation, with yourself, but also with the people you're collaborating with." The images lead to ideas, which then develop into a design concept.
One of Crouch's collaborators is award-winning puppeteer Basil Twist, whose primary role with Cinderella˝ was to make the tree be more than scenery—a character that would, in effect, dance. The mechanics aren't that difficult, he says; it's just like moving any piece of scenery. But then "you get to the moment when you're choreographing for the tree, to the music, and you're saying, 'Now it makes this shape; now it's that shape.' You feel the tree as you would a dancer. That's when it comes alive."
Twist has done many productions involving dance and music, and his work spans continents. (His Obie Award–winning Symphonie Fantastique, an underwater puppetry and art extravaganza set to Hector Berlioz' score, caught Wheeldon's eye.) But of everything Basil has created, what holds particular meaning for him is the tree in Cinderella. "This is maybe corny, but as a child I always used to go to [SF Ballet's] Nutcracker," he says. "And the tree growing onstage—it's one of the reasons I work in the theater. I so loved that moment." So he's thrilled, he says, to be "doing my own tree on the same stage."
The tree's foliage and movements are enhanced by projections—not in a major way, Couch says, but to "support the atmosphere, like the lighting does." And lighting is where Natasha Katz comes in. To her, this ballet is "about transitions. Cinderella has moments of revelation and transition, and they're all tapered to a place of joy." What that means in terms of lighting, she says, is that "you can't have light without darkness. The lighting really is the chiaroscuro of emotion. We're going to have darkness when it's emotionally dark, and we're going to have joy when we're supposed to have joy. And that is light and fluffy and beautiful and fun." What's most exciting about this Cinderella, says Katz, "is that it's completely new, that we all started from the same place together." She wasn't one of those little girls who dreamed of being Cinderella—but if she had been, she says, "this is the one I would have dreamed about."
Listen to an interview with Music Director Martin West and pianist Michael McGraw on Prokofiev's melodic, atmospheric score for Cinderella.
This production was part of the 2023 Season
by Cheryl A. Ossola
Header Image: San Francisco Ballet in Wheeldon's Cinderella // © Erik Tomasson
*Cinderella© by Christopher Wheeldon