About Helgi Tomasson's 7 for Eight
"You have to love the music—that's half the battle."
Helgi Tomasson's 7 for Eight is part of SF Ballet's 2023 Repertory Season. It will be performed in Program 5: The Colors of Dance, from Mar 14–Mar 19, 2023.

"Bach is timeless." So says San Francisco Ballet Artistic Director & Principal Choreographer Helgi Tomasson, about his 7 for Eight, an elegant, black-on-black construction set to four keyboard concertos by Johann Sebastian Bach. He says he wanted to make a ballet to the revered composer's music because of its "complexity and beautiful melodies."
This work isn't the artistic director's first foray into Bach (he made Aurora Polaris in 1991), but it took until 2004 for him to feel truly ready to take on a composer who arguably represents the pinnacle of baroque music."I think in some ways, consciously or unconsciously, having done Concerto Grosso [which premiered at the 2003 Gala and was set to the music of Francesco Geminiani] was steering me in the direction of Baroque music. Bach is the best—why not take the challenge? I love this music and I feel it's very danceable; it has a lot of motion. George Balanchine gave me advice about choreographing: You have to love the music—that's half the battle. If you don't love it, it's going to be very, very difficult. This music is so pure; it was a challenge for me to come up to that. It doesn't need anything from me."
Bach composed these keyboard concertos between 1729 and 1741, during his years as director of the college of music in Leipzig established by composer Georg Philipp Telemann. In those days, of course, "keyboard" meant the harpsichord, which until then had been relegated to its traditional station as a continuo instrument. Nobody else had seen fit to feature the harpsichord in concerto form, so Bach used earlier concertos (for violin and orchestra, for example) as models. For 7 for Eight, Tomasson chose to use the piano, a more dynamically versatile instrument that he believes "breathes more, from an audience's point of view," for all but one of the concertos. Concerto in C minor for Four Harpsichords (BMV 1065), to which a male solo is set, here is arranged for two harpsichords. "I felt that by keeping it for harpsichord it makes the connection back to the Baroque," says the choreographer. "I want to let the audience hear how some of these keyboard concertos were played, what the sound would be like. I wasn't sure in the beginning that this was going to be a solo; it just became one. And then I thought that was best: keep it a solo because the sound is different."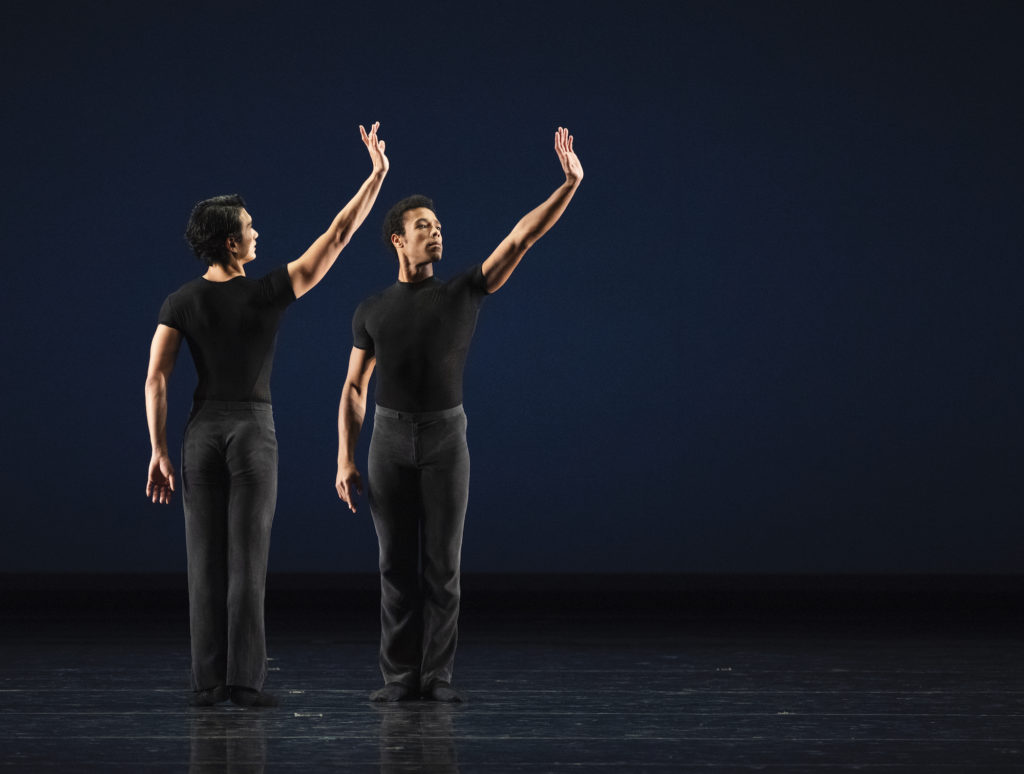 Say the words "Bach" and "ballet" and Balanchine's Concerto Barocco may spring to mind; to many ballet enthusiasts it's the ultimate juxtaposition of the two. Tomasson agrees: In creating 7 for Eight, he says he tried to "block it out. Before I started I thought, 'OK, there's Concerto Barocco up here,'" he says as he holds his hand up high. "You know it's there, but let's draw the curtain."
In drawing the curtain on what Balanchine did, he melded these Bach masterpieces into a ballet that has a distinctly Tomasson point of view. "This piece has a very strong emotional quality—bubbling, raw emotions—and a lot of meaning and strength," says Lighting Designer David Finn. "Helgi is a man of few but very strong words, and I think he relies on a sense of the music and what he likes about it. There's a lot about partnership, about relationships. It's very elegant, very formal, but there's this underlying turmoil that's very modern in some ways."
Finn and Costume Designer Sandra Woodall found themselves in sync after seeing a rehearsal; both were immediately drawn to the formality of a simply black space with a strong focus in the center. Together, they brought their black-on-black, light-and-shadow design concept to Tomasson. "We wanted it to have a little freshness but also have that classical look," says Woodall. "Helgi has this delightful surprise when we said we wanted black—he said, 'I wasn't thinking of that, but if it works, great.' It's so lovely working in this open, collaborative way."
Finn nods in agreement. "Helgi has a quiet fortitude about what he's doing—and being so strong about what he wants to do, he can remain open to so many ideas. You get the sense that he expects you to bring the full gamut of your creativity to the process. He looks at everything and then he shapes it."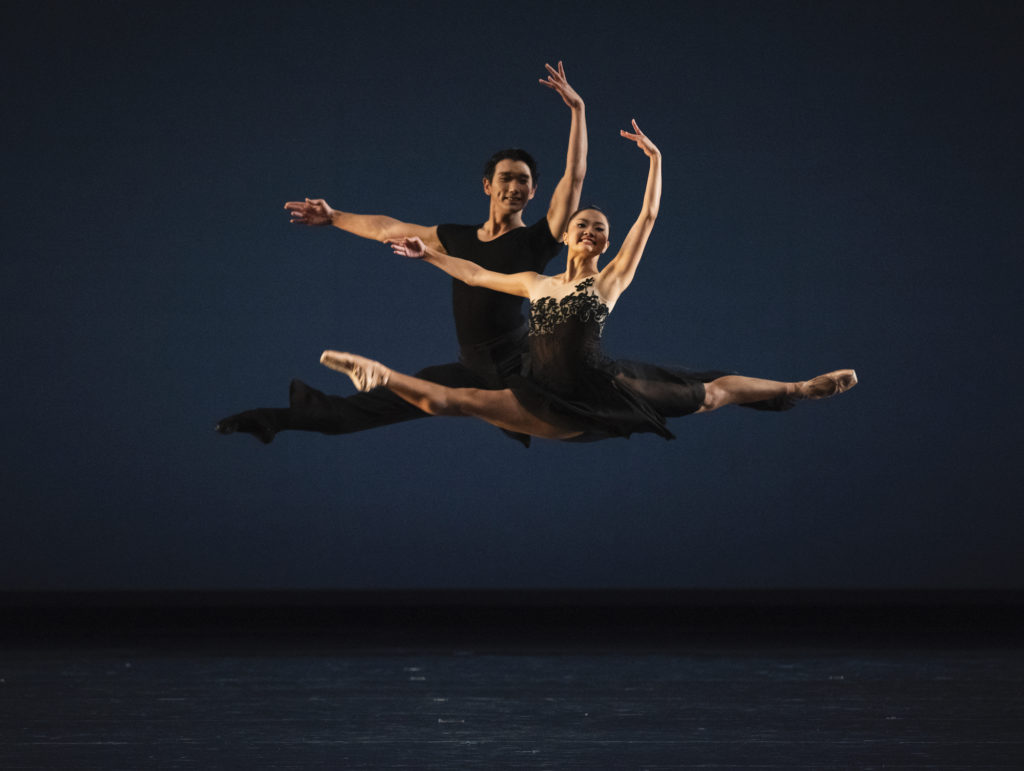 Clothed in elegant black and dancing on a minimalist stage, the eight dancers in 7 for Eight cycle through a complex series of theme and variations fitted neatly into seven musical moments. Repeated motifs accent its cyclical nature. "My intent was to have it be seamless, continuous," says Tomasson. That sense of flow is pervasive, surviving even pronounced tempo changes. We see it when the couple who dance the opening movement return in their second adagio, entering as if they've never stopped dancing. The choreographer describes this dance as "a continuation of the first, very contained pas de deux. I started with an adagio because I felt it immediately set the stage for what Bach is all about, and the way I envisioned it was very confined—it's within a perimeter, inside a pool of light. The second one is more expanded and challenging—bigger, with more daring lifts. Even though they are different, there's a connection." Then, in a pas de deux that begins as a counterpoint, the steps of the two men fleetingly become more similar before returning to their contrast in phrasing. And we see it in the solo: "It begins majestic and strong," Tomasson says, "and in the middle it becomes very fast, then goes back to the opening theme."
In a way, 7 for Eight seems like a love letter to Bach. The dancers yield and flow, drape and arc, turn and wrap, revealing layer after layer of these complex compositions as they foray out to explore the work's physical and emotional terrain, then circle back to center and each other.
by Cheryl A. Ossola
See 7 For Eight in The Colors of Dance March 14–19
Purchase The Colors of Dance Tickets
Header Image: SF Ballet in Tomasson's 7 for Eight // © Erik Tomasson