About Robbins' In The Night
Love and Devotion
In 1970, only a year after making his masterful Dances at a Gathering, choreographer Jerome Robbins returned to the music of Frédéric Chopin with In The Night, a set of three love stories that shares the earlier work's strong emotional basis but not its communal spirit. A sense of camaraderie permeates Dances at a Gathering; the characters of In The Night can think of nothing but their lovers.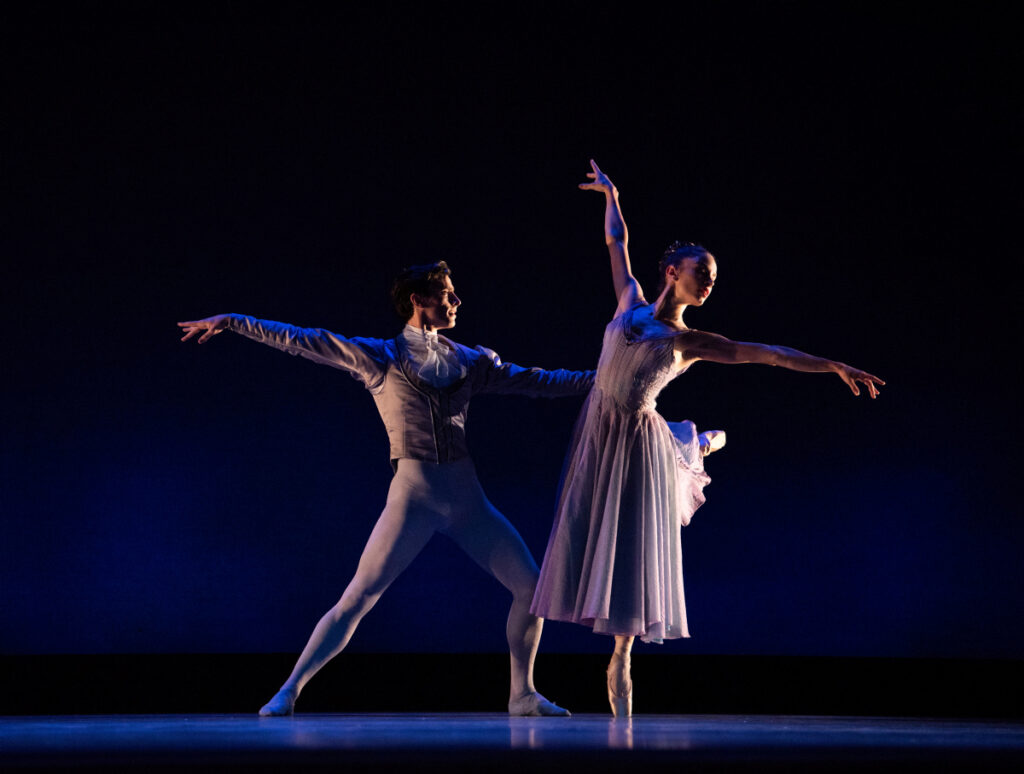 As in many of Robbins' works, the characters in this ballet triptych are sharply drawn, and their dancing offers a glimpse into the intimacy of their lives. The mood is set for romance as soon as the curtain rises, in silence, revealing a starlit sky. A couple dressed in eveningwear appears and then the music, a Chopin nocturne, begins. In this youthful romantic encounter, the lovers dance with a sense of joyful discovery as the man tenderly drapes the woman over his arms, then either melts with her to the floor or swings her into the air. They play out their youthful declarations of devotion, then exit in a swirl of passionate motion and flowing skirt.
Another couple enters and we see at once, by their reserve and dress, that they are in a more mature phase of love. In Ballet Master Katita Waldo's mind—she has danced the role many times—they have been together for a very long time. "I think it's a little peek at a private moment of an established couple—that's how it has always felt to me. They have weathered the storms and they're restrained in their emotions," she says. "There's history there. They have issues that have been worked out, but perhaps not perfectly." She describes their presentation as "very elegant" and adds that Jean-Pierre Frohlich, ballet master from the Robbins Rights Trust, told someone new to the role "to think that she was walking in a lovely garden, a formal English garden."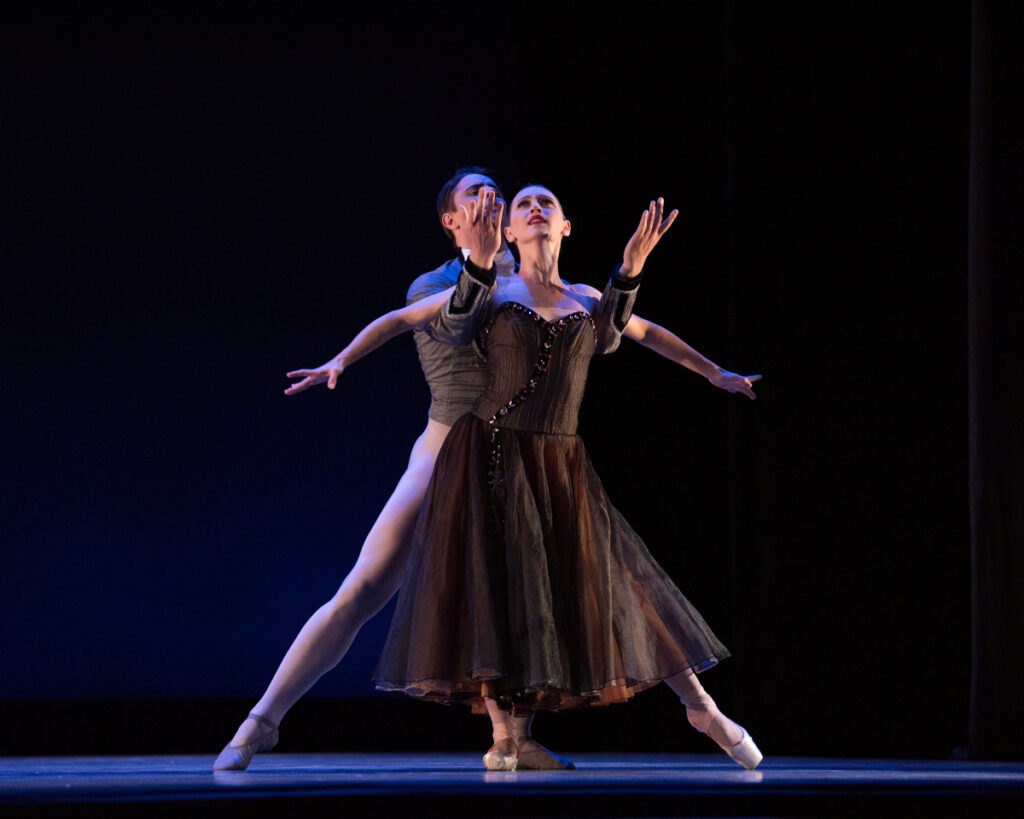 The couple's emotions are muted, Waldo says. "I try to achieve a sense that there is a lot of emotion but that it is carefully controlled. I've always associated them with upper-class British—those lovely BBC productions where you have the couple who says so much in so few words. And anybody listening in wouldn't understand the deep meaning behind their sentences." Though sedate and familiar, this relationship still has moments of surprise, brief passages when the partners break through their restraint.
The third couple, in contrast, enters with tempers flaring, and there's no mistaking the subtext in their relationship. Physical desire and emotional friction seem equally matched, and their relationship is so tempestuous that first one runs off, then the other, then both. Throughout their pas de deux the locus of power shifts back and forth until, in what some (including Balanchine) have considered a controversial gesture, one yields to the other.
The final scene, when the couples greet one another, evokes fleeting thoughts of Dances at a Gathering but without its joyful sense of community. In this ballet, the couples merely acknowledge each other politely, as etiquette dictates. The lure of romance holds too much promise, and each man gathers his woman and spins her off into the night.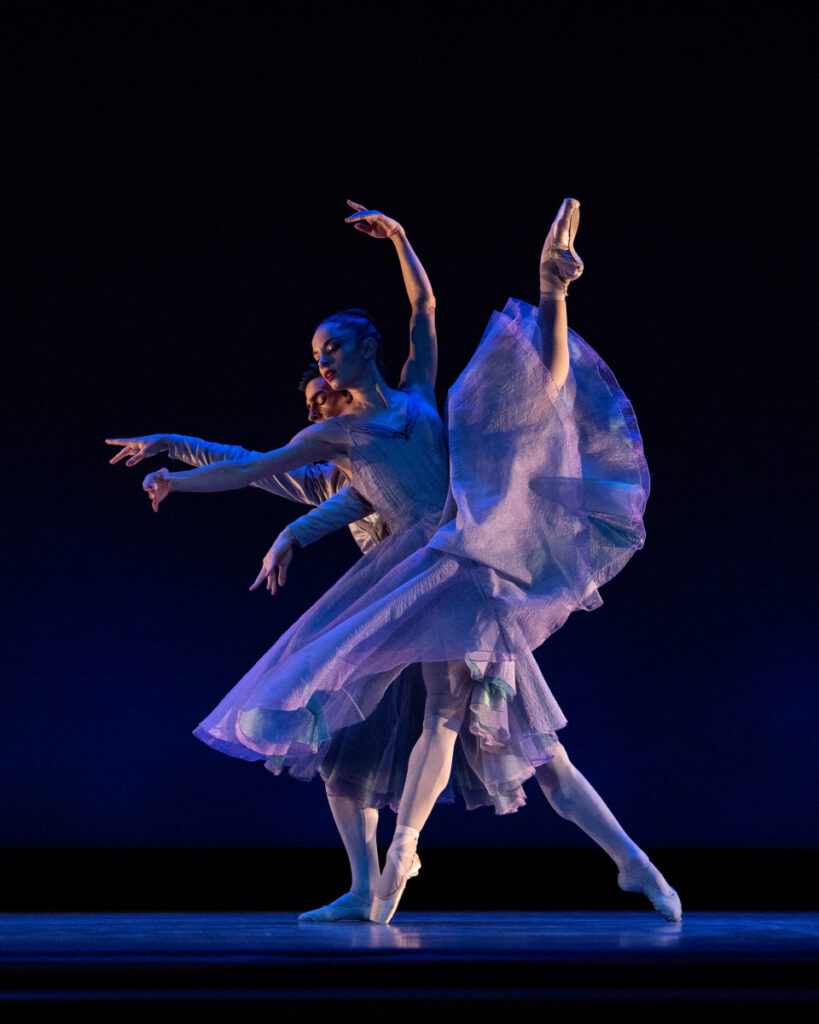 What better music for such passionate interludes than Chopin's piano nocturnes, with their dreamy, romantic nature? Robbins seems to have found some kinship in the Polish composer, using his music for The Concert and Other Dances as well as for Dances at a Gathering and In The Night. It's likely that Chopin's work reminded the choreographer, who struggled throughout his life with identity issues about his Russian Jewish heritage, of his family's roots in Eastern Europe. And although Robbins fought conflicting emotions about his immigrant parents, who lacked any display of the kind of heartfelt emotions that were to dominate their son's ballets, he could thank his mother for his early exposure to the arts. Lena Rips Rabinowitz spared no effort in shuttling her children to piano and violin lessons, where one imagines Robbins might have discovered Chopin.
Born in 1810, Frédéric Chopin studied at the conservatory in Warsaw, where his compositional bent favored the piano. There he became infatuated with a fellow student, a young singer, and often attended her performances at the opera house. His exposure to bel canto opera, in which long, sustained passages alternate with vocally virtuosic ones, influenced his composing style, particularly his nocturnes. With its increasingly intricate melody, Op. 9, No. 2—the final piece of In The Night—is one of the best examples of that artistic crossover. Chopin wrote 20 nocturnes over the length of his career; the four chosen by Robbins for In The Night were written between 1830 and 1843. Besides bel canto, other influences include the works of Bach and Mozart, whom Chopin revered, and traditional Polish folk dances. The composer spent the second half of his short life (he died of tuberculosis in 1849) in Paris, where he met his longtime lover, the novelist Amandine-Aurore-Lucile Dedevant (aka George Sand).
The word "nocturne" refers to evening or night, a plausible source of Robbins' name for his new ballet. And nighttime "breeds a certain elegance and strangeness" that shaped the ballet, writes Deborah Jowitt in Jerome Robbins: His Life, His Theater, His Dance. She suggests that the "shifts and disruptions" of Chopin's nocturnes influenced the phrasing of Robbins' choreography for In The Night. She writes, "By sometimes traveling hand in hand with the music, sometimes jostling subtly against it, his choreography reflects the changeability of relationships." That's an aptly poetic description of a ballet that explores three faces of love.
by Cheryl A. Ossola
Header Image: Dores André and Joseph Walsh in Robbins' In the Night // © Erik Tomasson