About Wheeldon's Finale Finale
"SF Ballet really is a choreographers' company."
What do you create for a director who's seen (and danced) everything? Particularly when he's a legend in the field of ballet and he's significantly invested in your career? For choreographer Christopher Wheeldon, the answer is Finale Finale, an effervescent tribute to Helgi Tomasson's last year as artistic director and to SF Ballet's post-COVID return to the stage. "I chose this piece because I wanted to celebrate Helgi," says Wheeldon. "I wanted a piece that felt celebratory and captured a light spirit. We've all been through such dark times over the past couple of years. I was grateful for the opportunity to find the joy of being back in a studio with dancers again."

Wheeldon's world premiere is set to Darius Milhaud's Le Boeuf sur le toit (The Ox on the Roof), a high-spirited composition that premiered in 1920s Paris—just as the world was emerging from the 1918 influenza pandemic and World War I. Milhaud was part of a group of classical music composers (with Erik Satie and Francis Poulenc) known as Les Six, who were creating music that Milhaud called "fresh, jazzy, and unpretentious." Milhaud wrote Le Boeuf sur le toit in Paris after spending two years in Brazil as secretary to poet-diplomat Paul Claudel. "Still haunted by memories of Brazil, I amused myself by bringing together popular tunes, maxixes, sambas and even a Portuguese fado," he wrote, naming the work after a popular Brazilian song "O Boi no Telhado."
Milhaud intended that the music would accompany a Charlie Chaplin silent film, but French artist and writer Jean Cocteau, a friend and mentor to Les Six, convinced him instead to use his music for a farcical pantomime ballet. Set in a Prohibition-era bar, with a cast of eight characters performed by the Fratelli brother clowns and the Cirque Medrano, Le Boeuf sur le toit premiered at Paris' Théâtre des Champs-Élysées with Cocteau's libretto and set designs by Fauvist painter Raul Dufy. It was, said Cocteau, "an American farce written by a Parisian who had never been in America."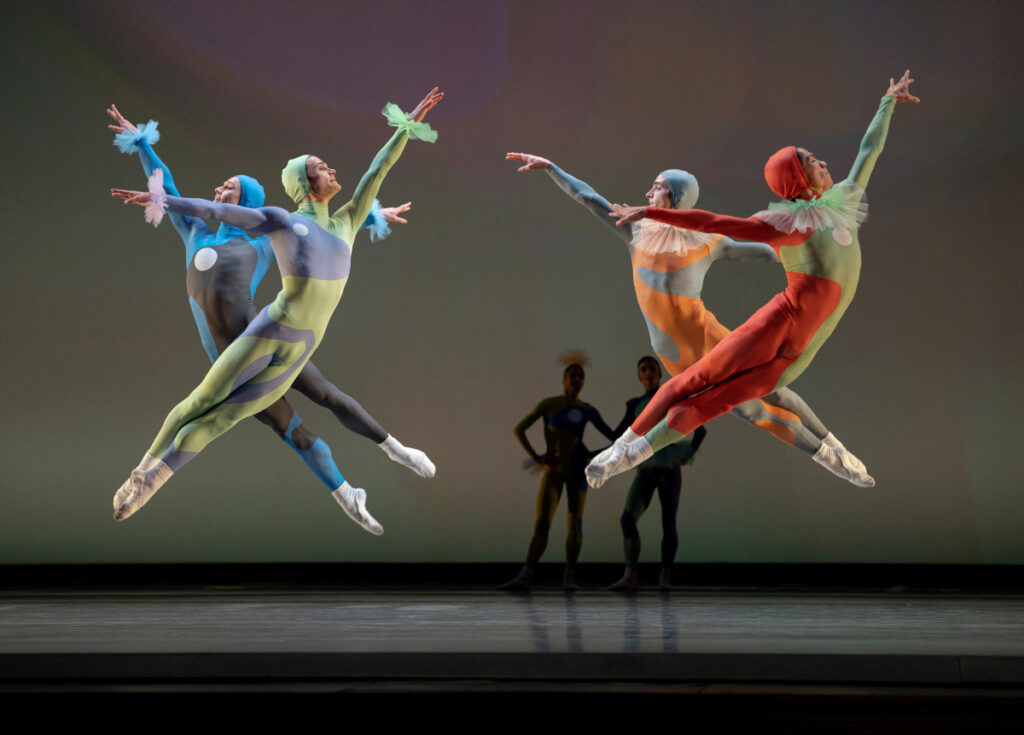 Thirty years later, SF Ballet Director Willam Christensen created another new work using the Milhaud score. Unlike Cocteau, Christensen drew upon his own vaudeville experience. Nothing Doing Bar featured a raffish cast of characters, incorporated social dances of the Prohibition era, and was set in a speakeasy inspired by his memories of an illicit bar below his New York apartment. His brother Lew Christensen revived the work as part of a 1980 celebration of Milhaud, who fled Paris when the Nazis invaded France and settled in the Bay Area, teaching at Mills College.
For Finale Finale, Wheeldon chose to jettison Cocteau and Christensen's scenarios and instead to create an abstract ballet that sets out to express the essence of the music. "There just seemed to be so much space and life in [Milhaud's] piece that I wanted to make something that felt more expansive and exciting," he explains.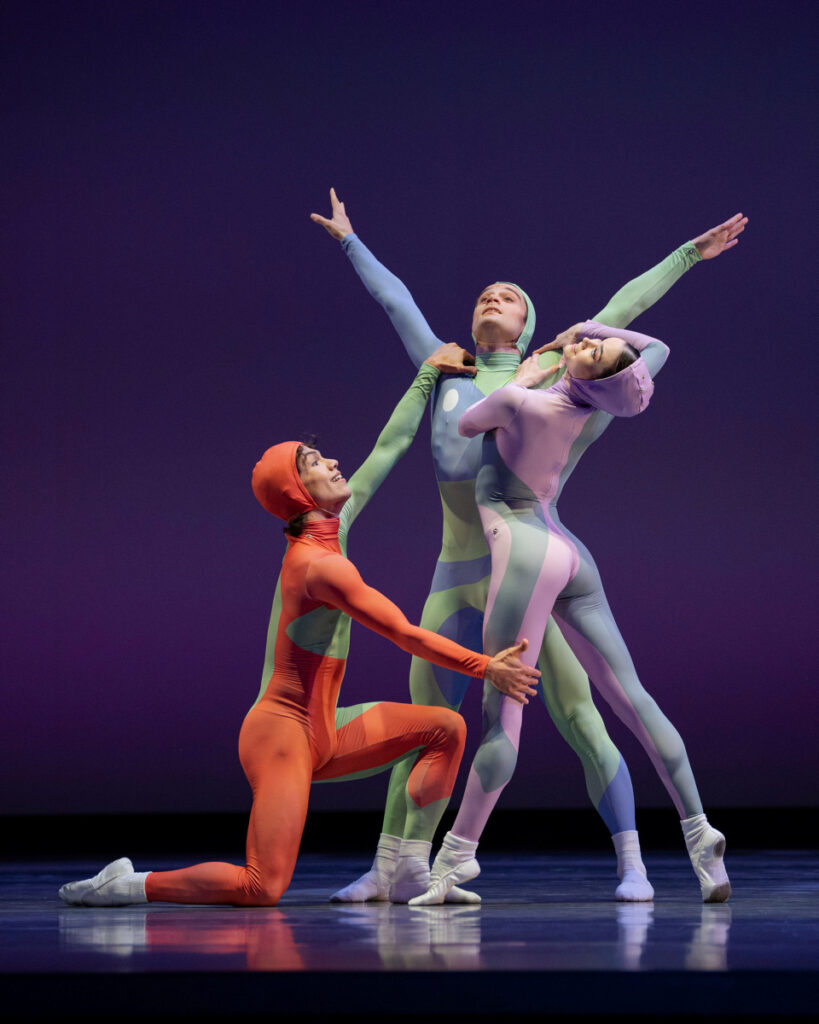 If you're used to the elegant, sinuous choreography of Wheeldon's Within the Golden Hour©, this ballet presents a different side of Wheeldon, who in addition to creating dozens of works for ballet companies worldwide won two Tony Awards in 2015 for directing and choreographing Broadway's An American in Paris. "I tried to capture that clown-like, almost cartoon-like spirit within the movement," he says. In a rehearsal last fall, Wheeldon urged dancers to explore the moments when the steps are intentionally less balletic. "It's tongue in cheek, you're allowed to be a little goofball in this," he told them. "You have my full permission to be hammy." As they worked through the steps, he adjusted details like lowering a chin so that the resulting movement arc looked more like a swan dive and less like ballet's traditional arabesque position, more cheeky and fun than classical and precise.
Although there's no story to Finale Finale, there are subtle references to the music's history. "The ballet was built with the idea of seeing more shape and color rather than clearly defined characters," says Wheeldon. "It's a little bit like looking at expressionistic paintings of [designer Raul] Dufy, blocks of color and shape. One shape might sort of look like a clown, or another shape might look like a bow, but you're not entirely sure how they all fit together." Look carefully and you also might spot some of the music's compositional influences in the choreography. "There are some fun South American dance motifs, rather like the music," says Wheeldon. "Almost the way we've adopted that into the ballroom world. There is one little solo that is very Chaplin-esque."
Wheeldon notes that the music sounds like one long finale, fitting for a tribute to Tomasson's final season. Tomasson, known for his ability to recognize nascent talent, commissioned Wheeldon early and often. Wheeldon has made 11 world premieres for SF Ballet (more than any other company except New York City Ballet), starting with Sea Pictures in 2000, and continuing with Cinderella (a co-production with Dutch National Ballet) and most recently a section of the 2020 Dance of Dreams. "I owe a lot to Helgi," he says. "He believed in me, which I so very much appreciate."
Wheeldon also credits Tomasson with creating a forward-thinking environment at SF Ballet that is particularly supportive of the development of new choreography. "Helgi has managed to consistently keep this tradition of making new work," continues Wheeldon. "Constantly challenging dancers and pushing them in new directions and bringing the best from all over the world through these doors. As a choreographer, you become a beneficiary of that experience that these dancers have had. And so the process [of creating new work] is very open and communicative and exciting. SF Ballet really is a choreographers' company."
This production was part of the 2022 Season.
by Caitlin Sims
Header Image: San Francisco Ballet in Wheeldon's Finale Finale // © Erik Tomasson