Bringing Nutcracker to Our Community
Tidings of Movement and Joy for All Ages
December around San Francisco Ballet is looking a little more normal again this year with the return of Nutcracker onstage at the War Memorial Opera House. But the Education & Training Department is also ensuring that our community at large can join in the festivities. From streaming parties at Boys & Girls Clubs to workshops with our special needs partners and adult community organizations, SF Ballet is bringing the joy of Nutcracker to all ages.
In years past, Boys & Girls Clubs of San Francisco (BGCSF) Dance Class participants have enjoyed attending the SF Ballet Nutcracker Luncheon followed by a live performance on the Opera House stage. However, due to Covid-19, the SF Ballet Education team has had to think outside the box for the last two years to continue our tradition of sharing Nutcracker with BGCSF members. This year, twelve Boys & Girls Clubs of San Francisco and two Boys & Girls Clubs of North San Mateo County clubhouses participated in SF Ballet Nutcracker streaming parties. Each clubhouse was provided with lunches, gift bags full of goodies like teddy bears and Nutcracker stickers, decorations for their common rooms, and streaming access to watch a full-length Nutcracker performance.
Also, this December, SF Ballet Dance in Schools and Communities (DISC) Teaching Artists and SF Ballet School Faculty brought the beautiful dances and music of Nutcracker to our special needs community partners at Pomeroy Recreation and Rehabilitation Center, College of Adaptive Arts, Los Angeles Homeschoolers, The Miracle Project, Open Minds School, and Notable Music Therapy during five glorious virtual workshops. Whether participants were standing, seated in a chair, or sitting on the floor, these workshops endeavored to share the experience of dance with everyone. There were workshops for all ages and abilities, from children grades K-8 to teens and adults.
Lesley Steele, Pomeroy's Director of Adult Services reflected, "The students were so engaged, and one of our clients was actively participating for the first time ever. Thank you for sharing the beauty of the season with us."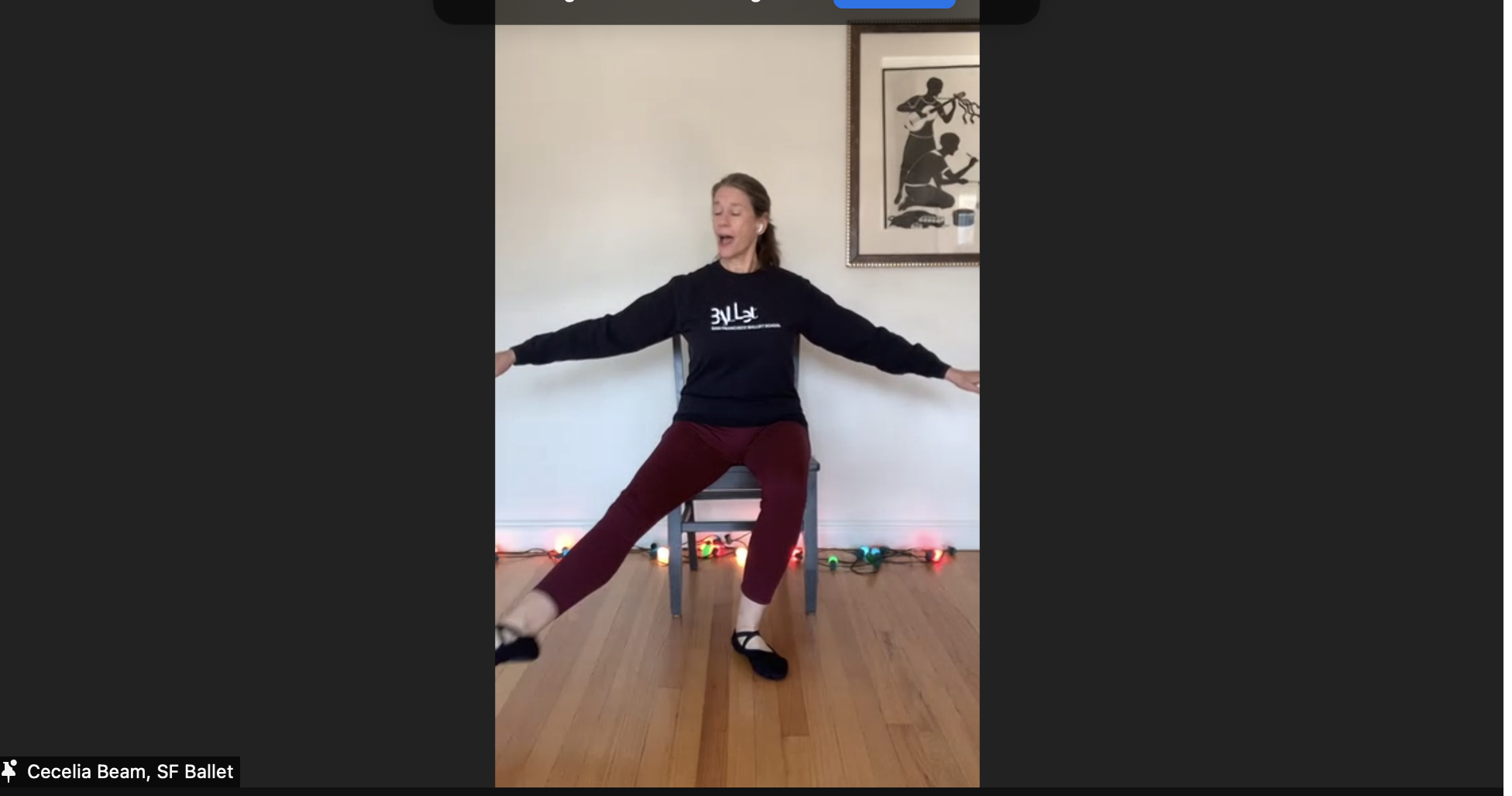 The E&T Department also offered free virtual workshops that shared the history of SF Ballet's Nutcracker, the oldest in the United States, and provided a chance to learn some of the moves and music from a seated position through chair dances. Over one hundred people signed up for the workshop held in partnership with SF Public Libraries. Additional virtual workshops this month reached seniors living at the San Francisco Campus for Jewish Living.
One attendee of the SF Public Library Workshop shared, "I am actually in Toronto but usually fly through San Francisco to Sydney, Australia, and have enjoyed San Francisco Ballet en route, so ended up becoming aware of this performance. I am a great fan both of public libraries and accessible, inclusive, high-quality performance arts."
Rounding out the season's community-focused festivities, the fabulous DISC Teaching Artists also led two Nutcracker Let's Dance Family Workshops on Zoom for families with children ages 3-7. Together at home, moms, dads, kids, stuffed animals, and even some pets joined in on the fun of wiggling like mice and twirling like sugar plums. We can't wait to continue dancing with our community in the new year!
Header Image: Lunchtime Nutcracker viewing party for youth in Covid-pods at Boys & Girls Clubs of San Francisco (BGCSF) sponsored by SF Ballet // Photo courtesy of BGCSF