Celebrating 40 Years of Dance in Schools and Communities
Four decades on, SF Ballet's pioneering dance education program continues to innovate.
The viral video was as simple as it was heart-warming: a young boy dancing his way home from SF Ballet's Nutcracker. Like the dancers he'd just seen onstage, he joyously leapt and turned all the way down the city sidewalk. On social media, it inspired dozens of calls for ballet training.
What commenters didn't know was that Amani Ahlsten, the 6-year-old in the video, was already then enrolled in SF Ballet School's pre-ballet program, having been "discovered" at SF Ballet's Summer Dance Camp, a partnership program with the Boys & Girls Clubs of San Francisco. Summer Dance Camp is one of several educational programs, designed to spread dance throughout the Bay Area, that make up San Francisco Ballet's Dance in Schools and Communities (DISC) program, which celebrates 40 years of service and partnership with San Francisco Unified School District this year.
While Ahlsten, who loved to dance as soon as he could walk, is a wonderful success story, DISC's programs are designed to bring the benefits of dance to a wide range of ages and abilities, rather than just to cultivate future professionals. "SF Ballet's commitment to upholding our mission is ever-present through our Dance in Schools and Communities program—to share the joy of dance," says Andrea Yannone, director of education and training at SF Ballet. "Our varied programs aim to evolve with our diverse communities, providing access to and removing barriers from a beautiful art form."
DISC is one of the longest-standing dance-in-schools programs in the country and has served as a role model for education and community programs of ballet organizations across the United States. The in-school residencies were established in 1979 in response to a need for arts instruction in the public schools and serve as a means of access, education, and opportunity for students of diverse backgrounds. The residencies, formerly only available to students in 2nd and 3rd grades, have expanded in recent years to include pre-kindergarten, middle, and high school programs, and currently reach more than 3,000 students in 120 classrooms across 47 SFUSD schools.
In DISC classes, students learn the fundamentals of dance movement as well as age-appropriate classical and folkloric dances, all through the lens of ballet. Specific learning goals are set in accordance with both California and national standards for learning in the arts. "DISC is a special opportunity for students to find their own unique expression through dance," says Sammay Dizon, a DISC teaching artist. "It's less about asking kids to perfect steps or memorize choreography, and more about encouraging them to be creative themselves. You can see kids blossom when you give them that opportunity."
SFBOpenHouse_Patoc_0090.t5d9fa99f.m1600.xvzbNi4l7
Todd Matsuura, who was part of the DISC program in his second-grade classroom at Rosa Parks Elementary School, is now a second-year student at SF Ballet School on scholarship. "We are not a dance family at all," explains Matsuura's mother Joelle. "So when we got the letter [inviting Todd to SF Ballet School], we were surprised. I'm a mom of two boys. I sort of figured, well, there aren't a lot of boys going to ballet. But I'm glad that boys are being exposed to dance and breaking down some of those gender stereotypes.
"Todd plays basketball, and [ballet] was kind of a shock to his friends," she continues. "The first year there was teasing and whatnot." Matsuura, who says he wants to continue with ballet when he grows up, jumps in the conversation. "At first they thought I was kind of weird, but now they think it's cool." Yannone adds, "Ballet is a great cross-training activity to any sport, and with 122 boys enrolled at SF Ballet School, boys find friends and role models and discover ballet isn't so 'weird!'"
While lofty, Matsuura's dream of becoming a professional dancer is not out of reach given his current path: just ask SF Ballet's Sean Bennett, who started in a DISC program in second grade, was invited to SF Ballet School, then joined the corps de ballet. "My first experience with ballet was at my elementary school, Clarendon," says Bennett. "I wouldn't have known I wanted to become a ballet dancer without having the [DISC] program here." DISC offers scholarships for continued study at the San Francisco Ballet School to approximately 60 new students recruited from the DISC program in the SF Unified School District annually, and 25 percent of SF Ballet School students are current and former DISC participants.
In addition to offering in-school and after-school residency programs and professional development programs for pre-K–12 educators, SF Ballet's DISC education programs bring K–12 schools to the annual Student Matinee performances, often free of charge. "We're committed to filling a critical need for arts education in our community," says Yannone. "These Student Matinees are a great way to introduce children to the transformative power of creativity through the performing arts." This year, nearly 6,000 Bay Area schoolchildren will attend a Student Matinee featuring excerpts from Cinderella and A Midsummer Night's Dream.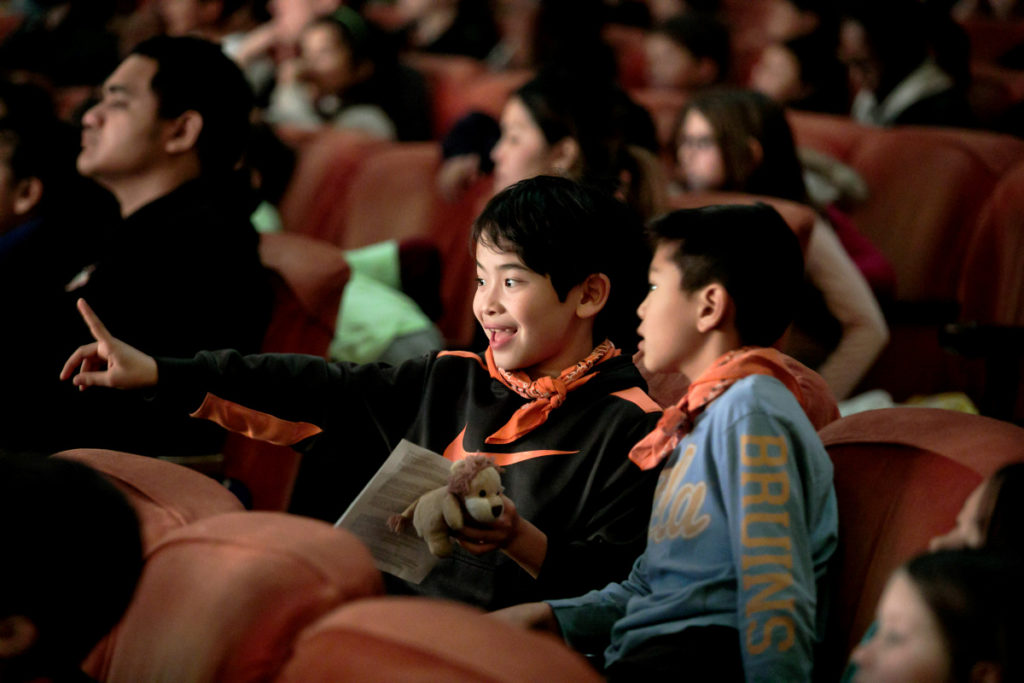 The DISC footprint in the community extends beyond the K–12 student population. The Parkinson's Disease Dance Class series in partnership with Kaiser Permanente takes place in SF Ballet's studios throughout the year, and Sensory Friendly Dance Workshops and Relaxed Dress Rehearsals provide opportunities for the special needs community to explore ballet. San Francisco Ballet's partnership with the Boys & Girls Club of San Francisco provides free ballet and dance classes for children ages 6–18, with year-round dance residencies at clubhouses across San Francisco, field trips and dance days, and an annual Summer Dance Camp in SF Ballet's studios.
Miles Sperske, who started in the Summer Dance Camp and is now in SF Ballet School, loves to move—all the time. "Sometimes in school, they play a little music," he says with a smile, "and I can always find a way to move my feet underneath my desk." For a boy who loves ballet, finding a class of like-minded boys is important. "Miles used to be a little bit nervous to tell people that he did ballet," says his mother Genoa. "Being with a class of all boys here has really helped him be confident about doing ballet. And I like that he has made all these friendships."
As DISC enters its 40th year, it's expanding to reach more students of a wider range of age and abilities throughout the Bay Area. DISC residencies are extending to reach students from pre-K through high school, including special education and bilingual classes. Additional after-school residency programs will be launched at Boys & Girls Clubs of SF, and Sensory Friendly Dance Workshops and Relaxed Dress Rehearsals will be open to individuals with developmental disabilities and families from the special needs community.
Although classes were suspended with the state's shelter in place, the students will eventually go back to dance class, with focus and intention. For Amani Ahlsten, ballet represents both his present and his future. "This is the thing that I'm good at," he says, with the gravitas of an adult packed into a nine-year-old frame. "So I want to improve on it."
by Caitlin Sims
Header Image: Elementary students participate in a dance class during SF Ballet's Dance in Schools and Communities (DISC) residency program with SF Unified School District // © Brandon Patoc