Your Ultimate Guide to Wheeldon's Cinderella
Everything fans of the fairy tale, Christopher Wheeldon,
and great shoes needs!
What Is It? A familiar fairy tale with a few charming twists. Created by choreographer Christopher Wheeldon of An American in Paris fame in 2012 to music by Sergei Prokofiev, this ballet leaves behind the fairy godmothers and talking mice in favor of a delightfully human story full of fabulous visual effects. With fantastic sets and costumes by Julian Crouch, magical projections by Daniel Brodie, and breathtaking puppetry designed by MacArthur Foundation Fellow Basil Twist to put a new "twist" on an old tale, Wheeldon updates this timeless tale for modern audiences of every age
In short: A spunky heroine. A noble prince. Blended families of the evil and not-so-evil persuasion. Tiny feet and ill-fitting shoes. And of course stunning dancing to a fabulous score.
Who's It For? Anyone who loves a charming romance, Broadway musicals, or a great pair of shoes.
What Will I See? While the ballet has some similarities to the animated classic, Wheeldon chose elements from both the Charles Perrault fairy-tale (the one the movie pulls from) and the Brothers Grimm, which has a few darker tones. So let's start at the beginning….
ACT I: CINDERELLA'S HOME AND THE PALACE
The Plot: Fairy tales are notoriously hostile to mothers. Cinderella is no different. Our ballet opens with young Cinderella innocently playing outside when her mother suddenly falls ill and dies. (Don't worry, it gets happier from there.) With her mother's death, Cinderella acquires Four Fates, who look after her. When she cries over her mother's grave, a (magical) tree grows out of her tears. We'll come back to that.
Choreographer George Balanchine famously said there are no mothers-in-law in ballet—unfortunately for Cinderella, there are plenty of stepmothers (and stepsisters too!). Her father remarries a vile woman named Hortensia, who comes along with two equally (or are they?) vile daughters, Clementine and Edwina. Though our poor Cinderella tries at first to stand up to these mean girls, her father demands she play nice. Cinderella becomes not just nice, but fully subservient to the family.
Meanwhile, back at the palace, young Prince Guillaume and his best friend Benjamin are growing up under the watchful eyes of King Albert and Queen Charlotte. Albert and Charlotte break the (unsurprising) news that Guillaume needs to find a nice princess to marry. Then, to add insult to injury, his father insists he be the one to deliver invitations to the ball at which he'll pick a bride.
Guillaume does have one trick up his sleeve though: he has Benjamin pretend to be a prince, while he pretends to be a beggar. A quite Homeric way to see what's what in a household. Cinderella's stepsisters are terrible; Cinderella is sweet. She and the "beggar" share a dance as they pretend to be at the ball.
Fast forward a few days and worst-stepmother-ever Hortensia casually tosses Cinderella's invite to the ball in the fire. Hortensia, Edwina, and Clementine go to the ball, leaving Cinderella alone cleaning the kitchen. At this point those fates take charge, bringing Cinderella to the tree (remember the tree?) who acts in place of the more traditional fairy godmother and gets her all set up with dress, invite, carriage, and a few new dance moves.
What Should I Look For? This first act obviously sets up a huge amount of plot exposition and character development—but while that's all good and well, the big moment is actually one that's just about Cinderella herself and her mother's love: her transformation at the end of the act, helped by her mother's tree. This moment features outstanding, magical puppetry.
ACT II: THE PALACE BALLROOM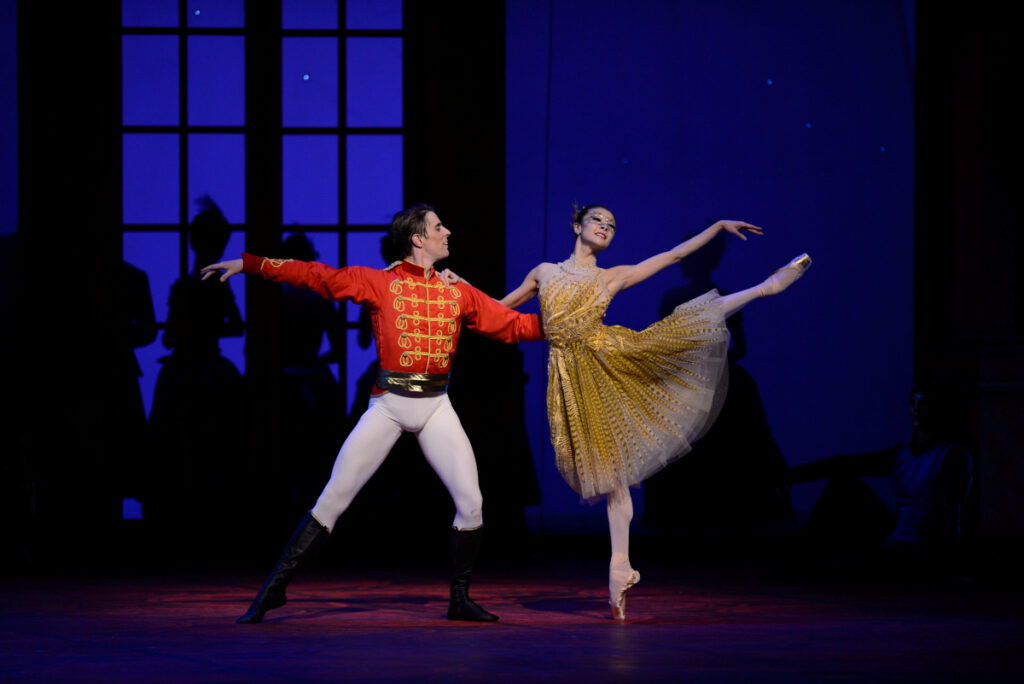 The Plot: This is the ball scene, you know what happens! Guillaume sadly wanders around, displeased with all the eligible ladies. Hortense and Edwina make true fools of themselves. And Cinderella makes a grand (masked) entrance all decked in gold, from tiara to toe shoes. Guillaume immediately falls for her and they dances together. Meanwhile, Benjamin is falling for Clementine, who, it turns out, is perhaps not all bad. Hortensia, on the other hand, is just that bad, and she rips Cinderella's mask off. Cinderella dashes out and leaves a golden slipper behind (it's hard to dance in glass).
What Should I Look For? This scene really plays with the corps de ballet, creating stunning kaleidoscopic formations that both stand on their own and highlight the principal dancers. Also, keep an eye out for those stepsisters—their duet in this act is one of the comedic highlights of the ballet.
ACT II: BACK IN CINDERELLA'S KITCHEN
The Plot: Guillaume and Benjamin strike out to find the girl who fits the shoe and search high and low before making it to Cinderella's home. When it doesn't fit Edwina or Clementine, Hortensia shows her true colors (again) and throws the golden pointe shoe in the fire. Luckily Cinderella is able to produce the matching shoe and she and Guillaume live happily ever after. And, never fear—though Guillaume may have less time for Benjamin now that he's got a girl, Benjamin makes out pretty well too, sweeping Clementine off her feet and out of her mother's grasp.
What Should I Look For? While many ballets end with a big wedding, and this one is no exception, it's a different kind of wedding than is typical: softer, more romantic, less pomp and circumstance. A simple pas de deux for Cinderella and Guillaume under her mother's tree transforms into a charming outdoor wedding with all our favorites in attendance and the final image of the ballet isn't an upbeat crowded finale, but just our prince and new princess enjoying a quiet moment, together at last.
By Jennie Scholick, PhD
This production was part of the 2023 Season
Header Image: San Francisco Ballet in Wheeldon's Cinderella© // © Erik Tomasson
*Cinderella© by Christopher Wheeldon