Your Ultimate Guide to Don Quixote
An intro to its sassy heroine, Spanish setting—
and real donkey onstage
Tomasson/Possokhov's Don Quixote is part of SF Ballet's 2022 Season. It was performed in Program 3 from February 26–March 6, 2022.
What Is It? This ballet is pure fun. Inspired by Cervantes' famous (and very long) novel, the ballet Don Quixote (first choreographed in 1869 by Marius Petipa to music by Ludwig Minkus) takes a few short episodes from the three chapters in the second half of the book to craft a charming story that's become known for its sassy heroine, Spanish setting, and real donkey onstage. SF Ballet's version, created by Artistic Director and Principal Choreographer Helgi Tomasson and Choreographer in Residence Yuri Possokhov, features beautiful sets and costumes by Martin Pakledinaz.
In short: Spanish lovers. Tilting at windmills. A horse and a donkey. And fiery dancing.
Who's It For? Anyone who loves castanets and Cabernet, vacationing in the warm Spanish sun, or the capers of rom-com lovers.
What Will I See? Well, the ballet tells the story of a young man named Basilio and his love, Quiterio, or, as we know her in the ballet, Kitri . . .
PROLOGUE: DON QUIXOTE'S STORY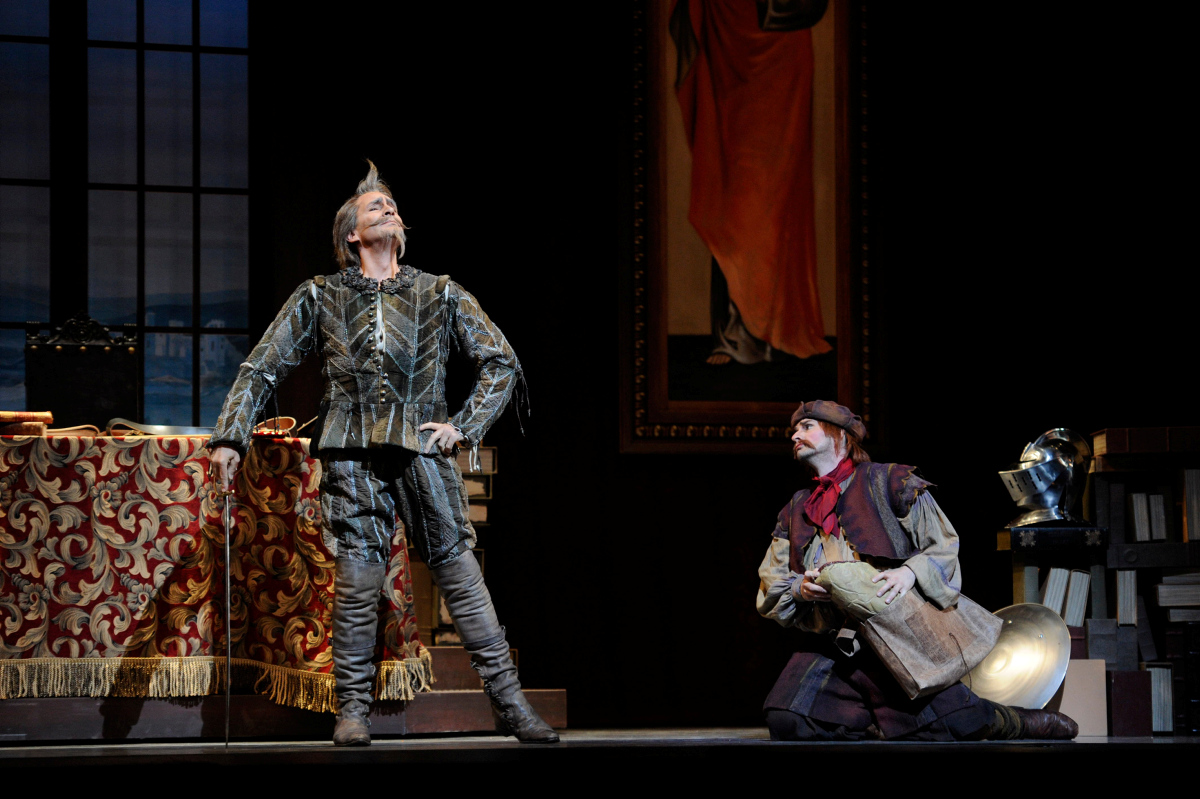 The Plot: The ballet opens in a musty study in La Mancha, Spain circa 1550, where we meet Don Quixote, a lesser nobleman with a taste for chivalric romance novels. Engrossed in his books, which tell tales of knights in shining armor, daring adventures, and damsels in distress, he falls asleep and dreams he's a knight in love with the ideal woman, Dulcinea. His sleep is interrupted by the entrance of Sancho Panza, a peasant from the village, clutching a stolen ham and chased by a band of housewives. Convinced the tales he's read are true, Don Quixote decides to embark on an adventure—with Sancho recruited as his squire—to defend the code of chivalry throughout the land.
What Should I Look For? This is our first chance to note the dynamic between Don Quixote and Sancho Panza—how does Sancho react to this sudden change in his fate?—and gives us a hint of the comedy to come.
ACT 1: A SQUARE IN BARCELONA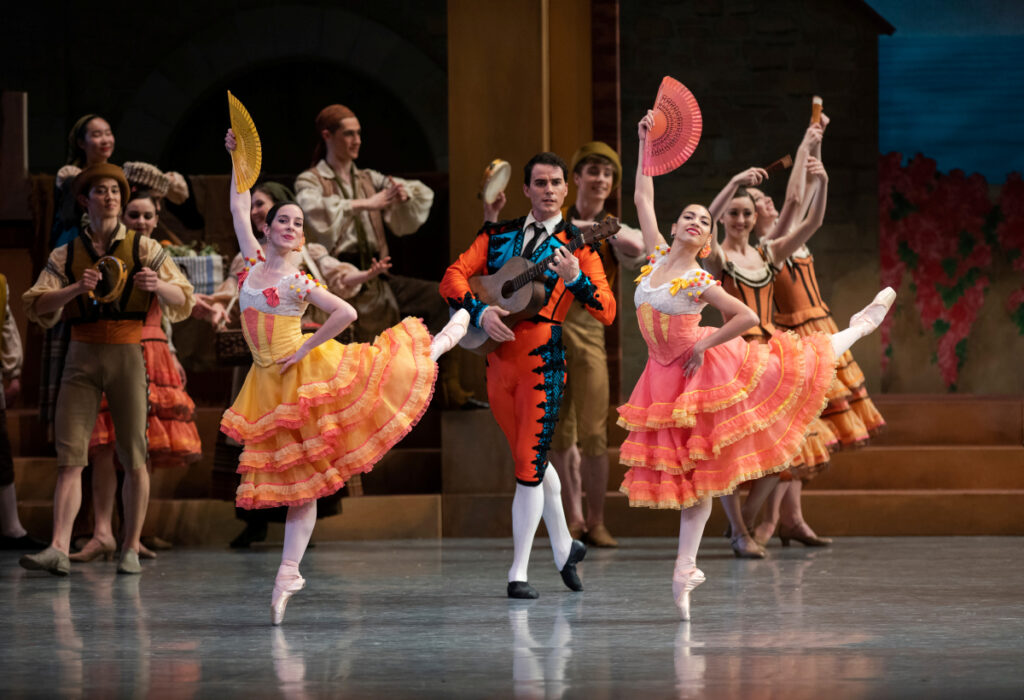 The Plot: Now we get to meet the ballet's heroine and hero: Kitri and her love Basilio. We see them dance with friends—Espada, a matador, and his sultry lover, Mercedes—and with each other. But all's not well in this Spanish paradise: Lorenzo, Kitri's father, decrees that his daughter isn't going to marry some poor barber, but instead a vain, extravagantly dressed nobleman named Gamache.
As this is going down, Don Quixote and Sancho arrive on a horse and donkey respectively—and yes, they are real animals—and join the festivities. Don Quixote mistakes Kitri for his love, Dulcinea, squaring off the love triangle between Basilio, Kitri, and Gamache. Amidst all the merriment, Kitri and Basilio manage to sneak off, hotly pursued by Don Quixote, Sancho Panza, Lorenzo, and Gamache.
What Should I Look For? This first act is full of fabulous dancing. Watch for the way that Kitri and Basilio alternate dancing—this comes out of traditional ballets where women's and men's solos alternate, but in this particular ballet, it also has the sense of a conversation, or flirtation, in which each is trying to one-up the other. Also, note how Spanish flair is added on top of classical ballet, through arm gestures pulled from flamenco, and big kicks and leaps, including the famous "Kitri" or "Plisetskaya jump," where the dancer almost kicks herself in the head!
ACT 2: THE NOMAD CAMP/THE DREAM/THE TAVERN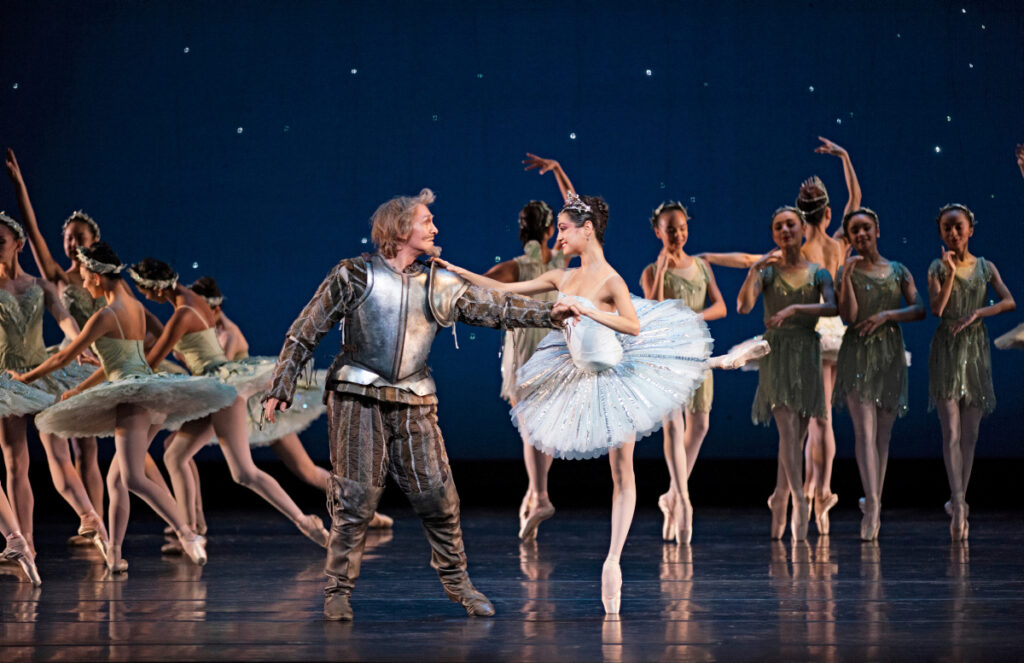 The Plot: Kitri and Basilio sneak into a nomad camp, where they explain their predicament (that her father wants to marry Kitri to an awful man) and the Bohemian nomads agree to help them. When the whole crew—led by Gamache on the donkey—arrives at the camp, the nomads distract them with a puppet show. Don Quixote gets confused (again) and thinks one of the puppets is Dulcinea, so he attacks the puppet stage, causing everyone else to scatter. Then he thinks a windmill is a giant, and attacks it too, before collapsing with exhaustion.
While knocked out, Don Quixote dreams that Kitri becomes his Dulcinea and that he meets Cupid, the Queen of the Driads, and a whole slew of nymphs. When he awakens, Sancho drags him off to a tavern. Kitri and Basilio are already there, still pursued by Lorenzo and Gamache. Basilio and Kitri beg to be allowed to marry and when Lorenzo refuses, Basilio stabs himself.
Except, it's fake, but only Kitri knows. Basilio begs Lorenzo to allow him to marry Kitri as his dying wish. He also recruits Don Quixote to his side—supporting a dying wish does seem to be the chivalric thing to do after all. As soon as Lorenzo relents, up Basilio pops, good as new.
What Should I Look For? In the dream scene, you'll want to look for the Kitri/Dulcinea character to be able to really change personalities—as Kitri, she's fiery and sexy, but here she's regal and pure. The Queen of the Driads and Cupid give other dancers an opportunity to shine—look for crisp technique and high contrast between these two characters. Oh, and watch of course for Basilio in the tavern—it's the comedic high point of the ballet.
ACT 3: THE WEDDING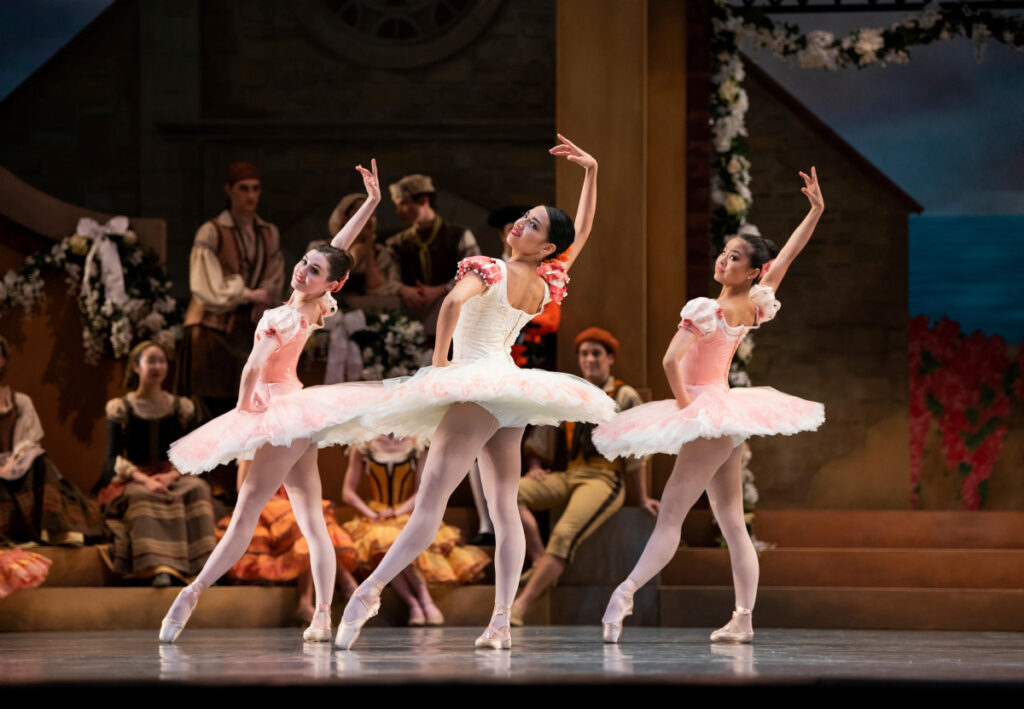 The Plot: But wait! We aren't quite done. There has to be a wedding. Many friends and acquaintances return, including Espada and Mercedes, and, of course, Don Quixote and Sancho Panza, who come to wish the couple well. A big wedding celebration ensues and everyone lives happily ever after, with the Don and Sancho heading out on their next big adventure.
What Should I Look For? This act is all about the pas de deux. Kitri and Basilio get to show off for the crowd and for each other in a duet that's become a regular feature at ballet galas and competitions. The catch? It's much harder after dancing the rest of a two-hour ballet. Watch especially for their variations: the double turns in the air for Basilio, how Kitri manipulates her fan and her hops on pointe (harder than they look!), and their series of consecutive turns in the coda. Though not as famous as the fouetté turns in Swan Lake, these are just as impressive and are a place where dancers put their own spin (pun intended) on the choreography, adding in tricks with fans, multiple turns, and sometimes changes of direction.
Header Image: Wona Park and Joseph Walsh in Tomasson/Possokhov's Don Quixote // © Erik Tomasson